Hi I'm Cedric, your Captain. I have more than 25 years of fishing and tournament experienced in the surrounding sea of Aruba, Venezuela (La Guaira), Curacao & Bonaire. Let my crew and I take you out on the beautiful blue waters of the beautiful coasts of Aruba for a Fishing adventure you will never forget.
For more information call Captain Cedric at
+ 297 – 594 – 0609 or fill in our contact form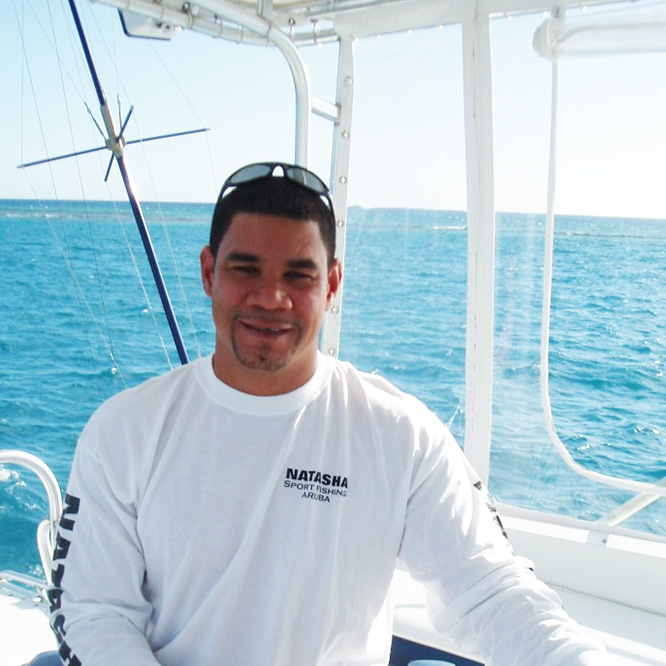 Natasha Private Snorkeling Boat
Deep sea fishing, beach trips and private snorkeling for family and friends around Aruba at affordable prices. Don't miss this chance to go fishing in Aruba! Book now for an unforgettable voyage. Bon Voyage!
Phone: 011+(297) 594-0609/ 5835122
Whatsapp: (+297) 5636507
Address: Natasha Sport Fishing, Lloyd G. Smith Blvd, Oranjestad, Aruba
E-Mail: natashasportfishing@hotmail.com
Web: natashasportfishingaruba.com

We booked the Natasha for a 6 hour fishing trip on Thursday (8/22). Caught two fish - Bonita, and Cedric was excellent! Honestly, we weren't expecting the waves... read more to be as rough as they were with two young kids (age 6 and 7 with prior experience in harbors in MA). I would guess we were in 5-10ft waves that never stopped once we got out to the fishing grounds and began the serious trolling. Cedric told us this was usual and so while it was a long 6 hours, we did come back with fish and he made us feel like he wasn't keeping us out there if it was really too rough! He cleaned the fish back at the dock and gave some guidance on where we could go to have them prepared for us as a late lunch. Fish was awesome! We thought our kids probably really had calmer waters in mind, so we asked Cedric if the other boat (Ariani) was available at all for the remainder of our stay, and were able to book 4 hours on that boat just two days later. Such a different experience and glad we did that second! Cedric is super professional and incredibly calm in all situations, which is really helpful when you are out of your element. Second day was quite possibly the best experience of our trip....beautiful weather, went to a calm area that he timed out perfectly... We booked the Natasha for a 6 hour fishing trip on Thursday (8/22). Caught two fish - Bonita, and Cedric was excellent! Honestly, we weren't expecting the waves to be as rough as they were with two young kids (age 6 and 7 with prior experience in harbors in MA). I would guess we were in 5-10ft waves that never stopped once we got out to the fishing grounds and began the serious trolling. Cedric told us this was usual and so while it was a long 6 hours, we did come back with fish and he made us feel like he wasn't keeping us out there if it was really too rough! He cleaned the fish back at the dock and gave some guidance on where we could go to have them prepared for us as a late lunch. Fish was awesome!

We thought our kids probably really had calmer waters in mind, so we asked Cedric if the other boat (Ariani) was available at all for the remainder of our stay, and were able to book 4 hours on that boat just two days later. Such a different experience and glad we did that second!

Cedric is super professional and incredibly calm in all situations, which is really helpful when you are out of your element.

Second day was quite possibly the best experience of our trip....beautiful weather, went to a calm area that he timed out perfectly so that we weren't jammed in with those big party boats. Kids got to snorkel in the ocean for the first time, and we took the wave runner out for some extra fun. We also LOVE the mats on the boat for sun and a beautiful vantage point.

Cedric is an awesome captain and keeps it low key. He takes great pride in his boats...they are super clean. With his 24 years of experience, we agreed that we couldn't ask for a better Captain, boats, or experience and would never consider renting through anyone else.

Definitely worth the extra money (over any group/mass boating trip) to have the trip and experiences we had!!! Also really liked that he had a choice of boats and excursions that worked for serious fishing and leisurely half day trips as we wanted to be able to do both.

Thank you Cedric!!!! More

Erica W


August 24, 2019